Current Issues
These issues are an occasion for official comments from you, the public. This is an excellent way for you to become more involved. We will update you on the issues and on opportunities for participation as they occur. Becoming a member is the best way to ensure that you'll receive the latest information.
Fracking Water Permits
Withdrawal from the Little Missouri State Scenic River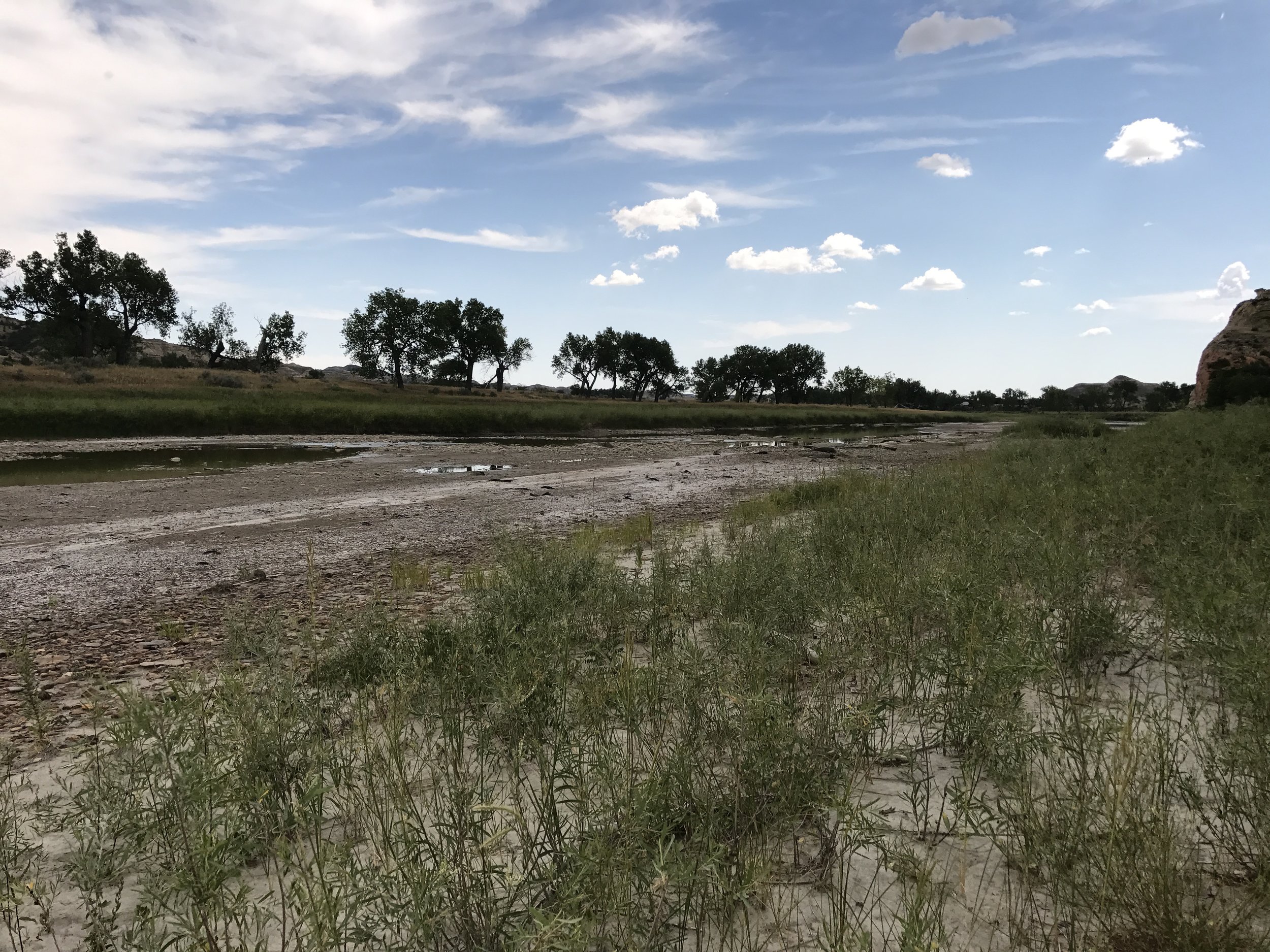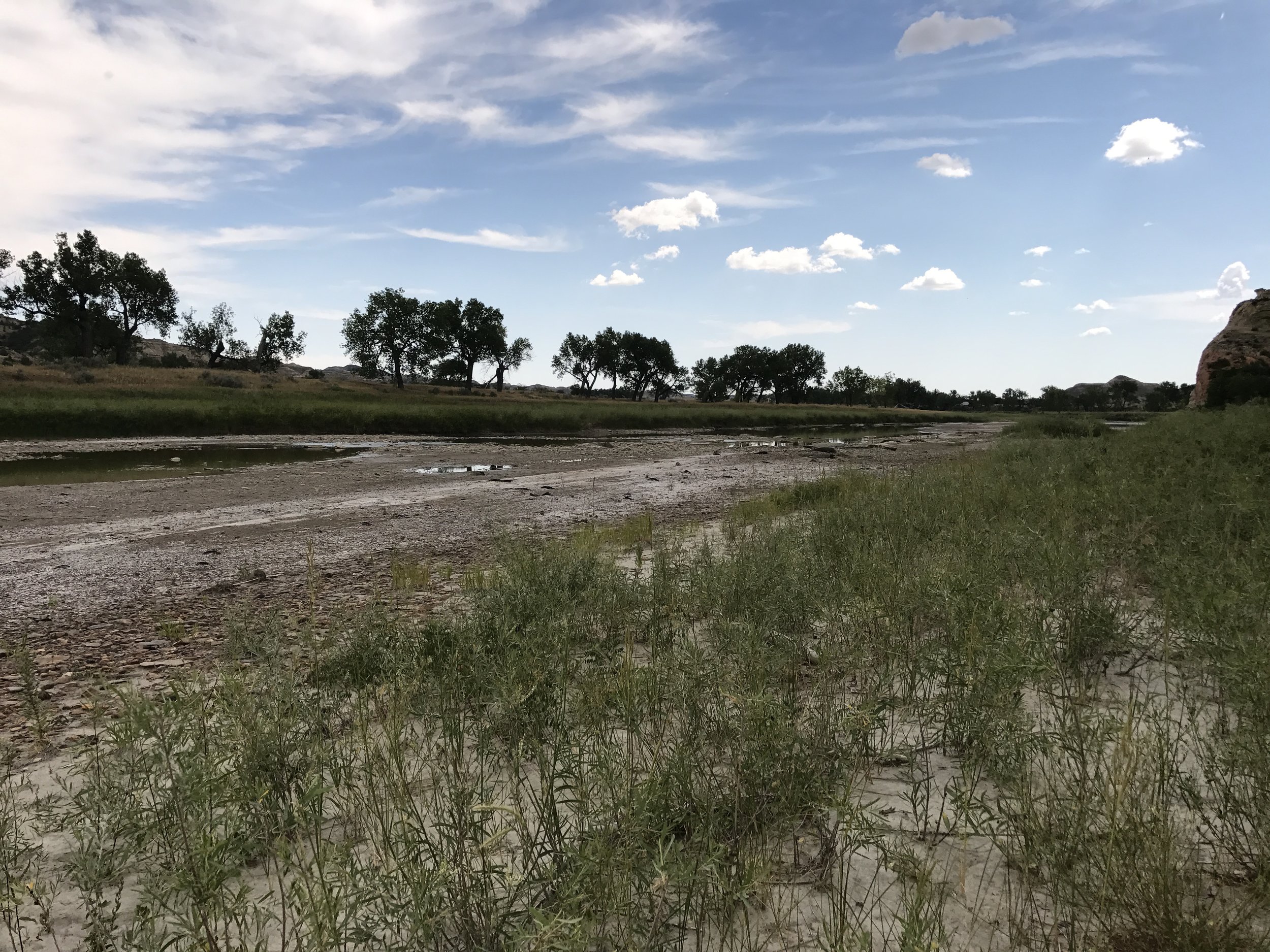 In 1975, the Little Missouri State Scenic River Act was signed into ND law "to preserve the Little Missouri River as nearly as possible in its present state, which shall mean that the river will be maintained in a free-flowing natural condition, and to establish a Little Missouri River commission" and "to maintain the scenic, historic, and recreational qualities of the Little Missouri River and its tributary streams." Water permits from the River were allowed for only agricultural and recreational purposes.
Since 1990 the State Water Commission (SWC) has been illegally granting temporary industrial permits, largely for construction and dust control purposes. Since the arrival of the Bakken Boom, permits have additionally been approved for oil development and fracking water. The SWC has claimed they were unaware of the law.
The 2017 Legislature changed the language to include these temporary industrial permits and it was signed by the Governor.
The LMSSR Commission discontinued meeting in 2007 at about the same time as the Bakken Boom began in ND. Citizen protest of the Legislature's language change prompted the Governor to re-instate the Commission and it met for the first time in nearly 10 years on August 9, 2017, with its second meeting on October 11, 2017.
An interim policy approved by the SWC on June 22, 2017, which currently allows fracking water withdrawal from the Scenic River, will be revisited by the SWC after the LMSSR Commission has considered it. At this point that decision is on hold awaiting further consideration.
The public is welcome at LMSSR commission meetings and has opportunity to comment. The next meeting is anticipated in late January/early February of 2018.
Expansion of HWY 85
A proposed four-lane divided highway through the Little Missouri State Scenic River Valley and trespassing on the North Unit of Theodore Roosevelt National Park
HWY 85 has been four-laned between Watford City and Williston with the portion south to Belfield having seen considerable upgrades to widen shoulders and provide turning and passing lanes. The ND Department of Transportation is currently developing a divided four-lane expansion plan from Watford City to Interstate-94 at Belfield.
Our focus is with the Park, the Scenic River Valley, US Forest Service roadless areas Lone Butte and Long X Divide at the southern end of the River Valley, and blockage of migratory movement of wildlife.
It is our position that strategic improvements to this section can provide needed safety without expansion beyond the largely three-lane currently in existence. We also hold that wildlife crossings are necessary along the route.
We have also provided an alternative concept that would move the highway away from the Park over a significant portion of the Little Missouri River Valley.
Because federal dollars are involved in this proposed project, it is required to go though the NEPA (National Environmental Policy Act) process which allows opportunity for public comment. The estimated cost of the project is currently $452 Million to $500 Million.
Alternatives Public Workshops were held in Belfield and Watford City in July 2016. No consideration was given for any alternative that did not include a four-lane divided highway through the Park. Two 2017 by-invitation (but open to the public) stakeholder workshops were held in Fairfield with little to no change.
Descriptions and maps of the proposed project, workshop presentations and handouts may be found here: http://www.nddotwilliston.com/85-project-watford-city-i94/. Check out the public involvement page for updates on public participation and be alert to press and organizational notices. The Draft Environmental Impact Statement release for public comments is anticipated in winter 2017/2018.
Industrial Park or National Park?
Refinery proposed next to Theodore Roosevelt National Park
Meridian Energy Group is proposing to "neighbor-up" with the South Unit of Theodore Roosevelt National Park. The company is moving forward with permitting for a 700-acre-plus crude oil refinery capable of producing 55,000 barrels at a location less than 3 miles off the Park's southeastern boundary.
Meridian is marketing their project as stimulus for a larger industrial complex at this sensitive location. BCA finds this site inappropriate and unacceptable. The project received a re-zoning and conditional use permit from the Billings County Commission on July 6, 2016 after its third hearing.
The refinery proposal is now at the State level for water use, waste and air quality permits.
A water application with the State Water Commission may be found at www.swc.nd.gov. Protest on the draft permit included request for a public hearing, which has not yet been scheduled.
Meridian's Department of Health Air Contaminant Source and Permit for Construction applications may be found at www.ndhealth.gov. Scroll down. The application was first submitted in October of 2016. Department of Health concerns with the application put it on hold. Meridian provided revisions in April of 2017. A May 15, 2017 letter from the DOH to Meridian again cited inadequate information and further input was provided.
The Department of Health recently released a draft Permit to Construct, which has met with much public opposition. A well-attended public hearing was held in Dickinson, ND on January 17 and the written comment period deadline is January 26, 2018. DOH documents are found at www.ndhealth.gov.
The ND Public Service Commission met with Meridian on December 19, 2017 to encourage the company to submit their project for the PSC's full siting review, which is a much broader, bigger picture analysis than other permitting processes. Meridian declined. The company has a history of changing their numbers depending on audience or permitting agency. The PSC requires all refineries with a 50, 000 barrel per day or higher capacity to undergo the PSC siting process. To avoid the review, Meridian changed its proposed 55,000 BBL per day capacity to 49,500 BBL per day, just under PSC numbers. PSC Commissioners continue to seek Meridian's cooperation.
Updates and alerts will appear on government and interested party websites and in the press. Watch for them.
 
Billings County Bridge
Proposal near Elkhorn Ranch Unit of Theodore Roosevelt National Park
The Elkhorn Ranch Unit is the 218-acre site of President Theodore Roosevelt's ranch headquarters during his time spent in North Dakota. Often referred to as "the cradle of conservation" due to Roosevelt's considerable conservation legacy as President, the small protected parcel is surrounded by intermingled private and multiple-use US Forest Service lands.
Again, federal monies may be involved, which triggers the NEPA process. Concerns include "feeder roads" and industrial oil and gas traffic that will extend into the heart of the Badlands bringing unprecedented impacts.
The county's engineering firm KLJ has made public that the current Preferred Alternative is Alternative K, Option 1 located at the north end of the privately-owned historic Short Ranch. A Draft Environmental Impact Statement (DEIS) is anticipated in late 2017 or early 2018. Opportunity for public involvement will include public hearings and a public comment period.
Background information, a map and schedule for public involvement may be found on the Billings County webpage at "Little Missouri River Crossing."